OOOPS!
In my excitement over the Solar Eclipse Sale, I forgot to put the end date on the last newsletter.  I'm sorry for any confusion and yet another email in your inbox.
The  Solar Eclipse Sale ends on Saturday August 26 at 2pm!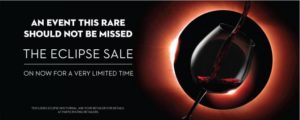 A sale on our Eclipse wines is almost as rare as a solar eclipse.  We found out late last week that  winexpert was going to offer us a flash sale on our Eclipse wines (excluding Nocturnal) in honour of the eclipse happening on Monday.
We may not be getting the full solar eclipse, but we still get to enjoy the sale!
Save $25 on Eclipse Ultra Premium wines (excluding Nocturnal). Regular price is $217.00.  Don't forget that includes the kit, wine making fee, taxes, corks, labels , shrink caps, bottlewashing and sanitizing.
Click  HERE  to see the varieties.