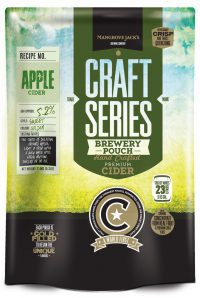 Apple Cider
Pear Cider
Mixed Berry Cider
New Raspberry Mango Cider
Raspberry Lime
Apple Cider
The taste of delicious orchard apples, light and crisp with a juicy apple bite. Enjoy any time, chilled or on ice.
ABV Approx:  5.2%
Style: Sweet
Colour: Gold
Pear Cider
Mixed Berry Cider
New Raspberry Mango Cider
Raspberry Lime
Hard ciders are becoming more and more popular, so we have started making them!  They are gluten free and a refreshing alternative to beer.  Hard cider is the fermented juice of orchard fruit, most commonly apple.  $99 for 23 litres (the number of bottles you get depends on the size and style of bottle that you use).
The process is similar to wine…
Bottles:

1) Plastic P.E.T bottles (500ml)
These bottles are our favourites!  They use plastic pop style lids that you hand tighten to seal the bottle.  You get 45-48 of the 500ml bottles and they sell for $16.50 for 24.  Caps are included in the price of making the kit.