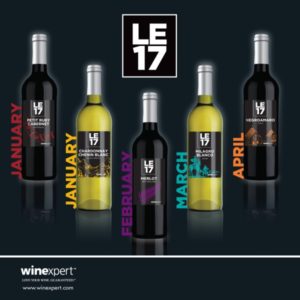 It's that time of year again…Our LE17 wines have been announced! All of the details are below. If I have forgotten anything or you would like more information, please call us at 384-2955 or e-mail us at info@winexpertmoncton.com. I highly recommend clicking on the video links below for all the wines. The descriptions included in the videos are excellent and not snooty at all. They include accessible and understandable information. We will have these videos cued up on our computer at the store for viewing. And the recipes sound delicious!
I am also going to start talking Christmas wine-making…not this week, but it's coming! Sorry!!
Saturday, October 7, we will be open 10am-2pm, instead of 5pm, for the Thanksgiving Holiday Weekend. Sorry for any inconvenience.
It's Time To Pre-Order LE17 Wines
If you have never ordered our Limited Edition wines before…here's the deal!
There are 5 wines, 3 reds and 2 whites…always unique wines that we may never get again.
They arrive at our winery January through April.
They need to be pre-ordered, but you don't have to pay until they get here.
Great value for money because they are 18 litre kits at a reduced price.
When you pre-order any (or all) of these Limited Edition wines, you will save $26 per batch, as well as assuring that you can get these unique wines. There is no guarantee that we will have spares. Contact us by phone or e-mail to place your order by Friday, December 1st. If you have any questions about the wines, feel free to ask away…we are happy to help!
$199 to make in our winery (Regular price $225) and that includes the kit, wine making fee, taxes, corks, labels, shrink caps, bottle washing and sanitizing.
$136 to take and make at home (Regular price $162).
Click HERE to place your order online or call us at 384-2955
And as an incentive to try some or all of our LE17 wines, we will be giving away one LE17 wine of your choice. Every LE17 wine that you order, gets you an entry into a draw to win a FREE batch. If you order all 5, you will get 5 entries.